Monster Hunter has a lots of impressive animals, beast and dragon. Some of them are small and animal-like but most of the are dragon type monster. Obviously, they have high attack and high defense and some of them can fly. The goal of hunters is to kill the monster and collect monster material to craft a better armor and weapon for next challenge. There are difference damage effect, for example: If hunter focus to hit on the dragon's head, the horn/eyes/nose would be highly damaged and would drop rare item.
There are about 10 species of monster and  over 100 difference monster . The 10 species are:
-Herbivore, Lynian, Neopteron, Pelagus, Piscine, Carapaceon, Bird Wyvern, Beast Wyvern, Wyvern and Elder Dragon.
In the following, I will show the 5 strongest monsters under the categories of the first 5 species .
1. Herbivore – Popo

The Popo is the largest and the strongest herbivore found living in the Snowy Mountains. Hunters often hunt for their meat and tongue to make foods and potions. Although they look big and tough but they are docile and will run for life when one of their member under attack by hunters or when a Wyvern enters their inhabit area.
2. Lynian – King Shakalaka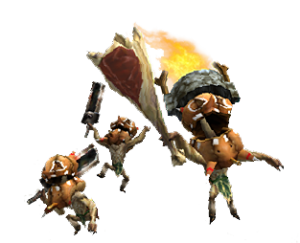 The King Shakalaka are normal Shakalaka thatwear mask, club and has fire on the top of the mask. They are the leader of the Shakalaka and inhabit in the area Forest and Hills, they may look cute but in fact- they are tough. King Shakalaka is consider to be a semi-boss in game, they are strong and can do a large sum of damage to hunters. It is more difficult to fight them in group because the normal Shakalaka would cause distraction while the King Shakalaka will throw fire ball to hunters. King Shakalaka 's mask can use to craft " Armor Sphere, Hard Armor Sphere and Royal Armor Sphere".
3. Neopteron – Queen Vespoid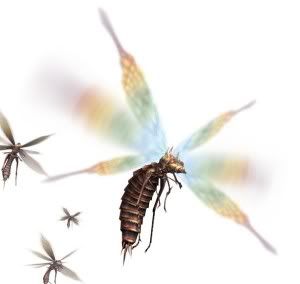 Vespoid is the strongest in the Neopteron, although they are they strongest in the Neopteron species but they are weak and nobody. However, they are hard to aim and would cause paralyze to hunter and their body parts are useful in making paralyze trap.
4. Pelagus – Golden Rajan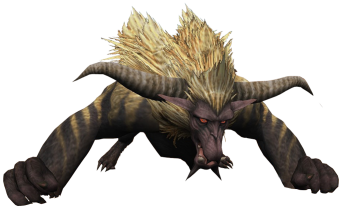 Golden Rajang is a minotaur-like beast with two large horns on its head, they are strong and can release electric in their body system. Unlike normal Rajang, Golden Rajang are rarely see in wild due to their lonesome style. The most notable ability is to shoot electric beam from its mouth and many hunters hate to encounter Golden Rajang due to their power, speed and aggression.
5. Piscine – Red Lavasioth
Red Lavasioth is large Piscine Wyvern , living in the volcano and  lava area and resistance of fire attack. They have hard rock scales to protect them, which means they have high defense power. They can swim in lava and would give a sudden attack, they throw fireballs and meteors, they can also jump and slam themselves on the ground to attack hunters. They also do "Sliding U turn" attack with their tails to stun hunters, they are tough and hard to kill but the Lavasioth scales, teeth and fins can be use to craft  Red Lavasioth armor which called the "Red-Volganos armor" and "Lava-long Sword". These armor gives hunter a high defense and flame resistance, the Lava-long Sword consists high fire element attack. The are one of the hunter's favorite.
The pictures shows "Red-Volganos Armor" and "Lava-Long sword".
P.S the remaining 5 species will be show and discuss in "Beast-Dragon-Monster part 2″