Weapons:
Combat in MHF is flexible, player do not need to build up hunter skills or skills tree, but player build up their equipments. Which means, player can select difference  weapons according to their preference.  And there are total 12 different weapons for selection. The weapon categories can divided into: Sword and Shield, Great Sword, Lance and Gun Lance, Hammer and Hunting Horn, Long Sword, Bow and Bow Gun.
Sword and Shield: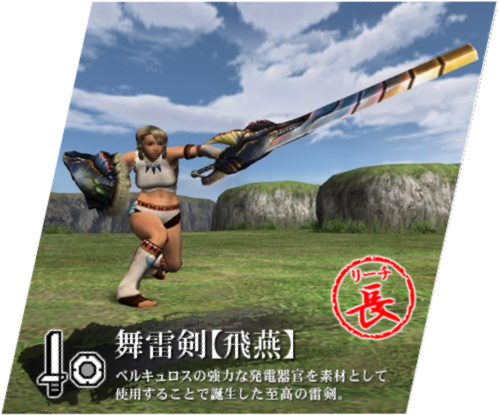 The easiest use weapon set, it offers benefits such as Light movement, an excellent balance of attack and defense and convenient item usage. But low in attack,  many swords also provide special elemental effects, giving you extra support in combat.
Great Sword:
This is the Biggest sword in game, standing taller than the hunter. The weight of the sword makes movement slow and sluggish, but it has a destructive force. The Great Sword can cut through any dragon skin in game, the unique Great Sword  skills – powerful charged slash and excellent guarding capability make this weapons one of the most powerful weapon in game.
Lance and Gun Lance
The Lance and Gun Lance are very similar weapons, the main difference is Gun Lance can fire one shot of cannon at the end o the attack combo which can stunt enemy. Both weapons have a Hugh shield with very high defense power, the lance are perfect for piercing attack.  As well as allowing you to move and attack from the guarding position.\
Hammer and Hunting Horn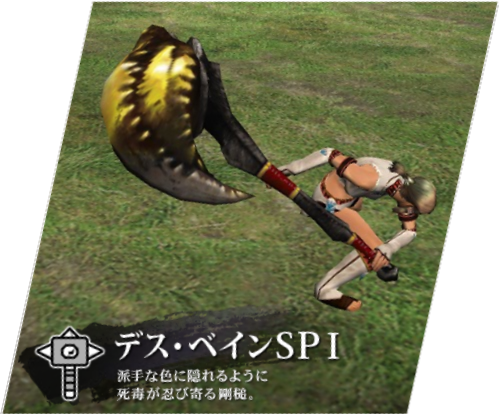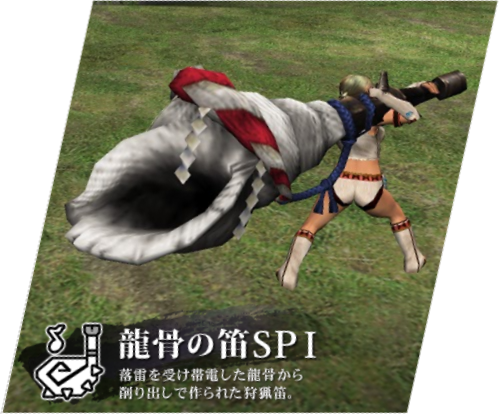 Hummer and Horning Horn share the same attack combo. Hummer offers a massive attack and charge power, this is definitely the most powerful weapons in MHF. Hummer focus in high smashing attack power and forgotten the defense power.  Hunting Horn has the same attack combo but attack p0wer  are slightly lower and no charge attack. Hunting Horn is a hammer that you play tunes on to give yourself, or your party of hunters some handy status effects, such as super-speed or  extra power which make the Hunting Horn the most technical weapon in the game.
Long Sword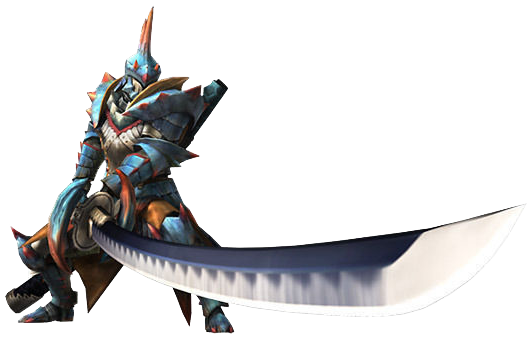 Long Sword is a powerful weapons with a long range pf attack. Every attack a causes spirit to flow into the blade, which can increase attack power step by step and unleashed the ultimate power in the final form. This weapon cannot use in defense, so player must evade the enemies attack.
Bow and Bow Gun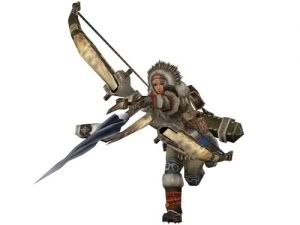 Bow offers long range attack, hunter can run and evade very easily. Bow can be insert with poison arrow, flame arrow , freeze arrow, blast arrows……etc.
Bow Gun is also long-range weapon, made up of a barrel, a frame, and a stock. Difference Bow Gun combination offers difference effect and power.
Read more: Monster Hunter 3 Tri weapons, armor, items overview (Wii) – Video Games Blogger http://www.videogamesblogger.com/2010/04/28/monster-hunter-3-tri-weapons-armor-items-overview-wii.htm#ixzz15f84UBBs