Monster Hunter Frontier is an online MMORPG on the PC  with a great amount of new weapons, quests, armor, and monsters. The purpose of the game is to gang up (MAX 4 Players in one gang) and fight against giant monsters, kill them, peel their skins, take their parts and craft own armors and weapons.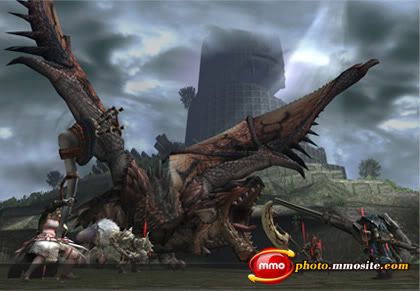 Monster in this game is definitely the  boss, you can find may kinds of creatures.  There are 10 categorizes of creatures appear in this game, you will find creatures from Herbivore to Hugh Dragon.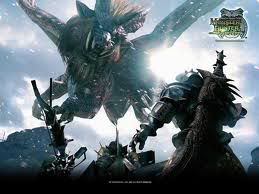 Quests is available in the quests board in the village (only one village in game).  There are approximately 100 – 150 quests in total, the difficulty of the quests can be identified by Hunter star, the more hunter star the quests required, the harder and tougher the monster in the quests.
Weapons and Armors customization is critical, players can upgrade  weapons from bottom to top or craft deadly weapons with rare raw materials. Players can get raw materials from all the monster, the harder the monsters, the better the loots.
Usually 1 full set of armor (Head – Body – Arms – Legs) required about 10 piece of raw materials from the monster while each loot only give player 2 -3 raw materials. It is because the dragon in this game is extremely  tough to kill and  many players were gang up to fight big monsters several times to get suitable loots.
Weapons selection, creation and customization is one of the popular features in game, the are 13 types of weapons available, each has its advantages and disadvantage and are required to collect raw materials from dragon to craft.  Players can choose from sword and shield, hammer, lance, arrow, crossbow, cannon………..etc.
This game is tough, the only way a players can learn is from trial and error in their huntings. Monster Hunter is designed to be played with other people. Finding friends to play the game with offsets the intimidating difficulty level and gives you the opportunity to swap items.  Large numbers of quests, weapons and armors customization made the game incredibly durable which made this game a best seller in Asia.